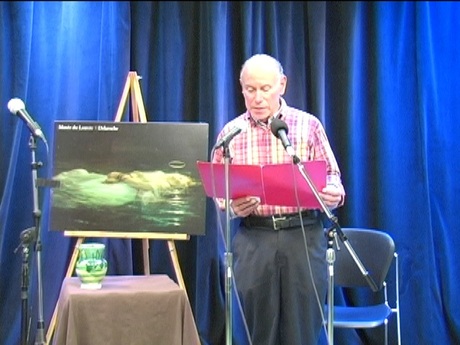 Fiona Page reads again at Stephen Kopel's Poetry Open Mic.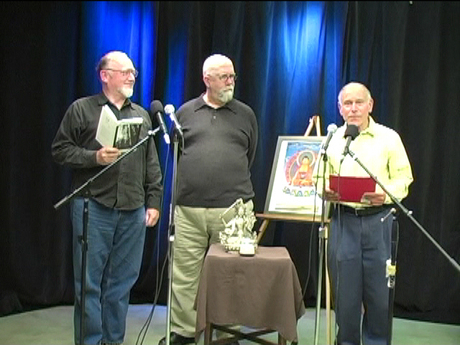 Here we have another marvelous San Francisco open mic poetry session, only it lacks you! If you live in the Bay Area please consider finding out through John Rhodes' Facebook page when we run the open mic poetry podcast and TV show. It is usually at 2727 Mariposa Street, San Francisco. The poets today are J.C., Steve Mackin, and host Stephen Kopel. Try going to John Rhodes' youtube page to watch the video version. We were well-poised in this open mic and I'm sure you will enjoy the audio as much as the video.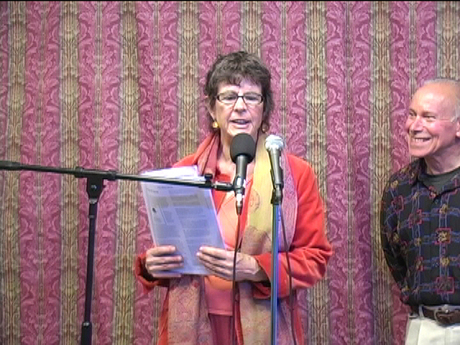 Here is Stephen Kopel's segment after the TV Show Videotaping at 2727 Mariposa St.
The Poets in order are:
Stephen Kopel
Ray Valdez
Steve Mackin
Nancy Wakeman
Stephen Kopel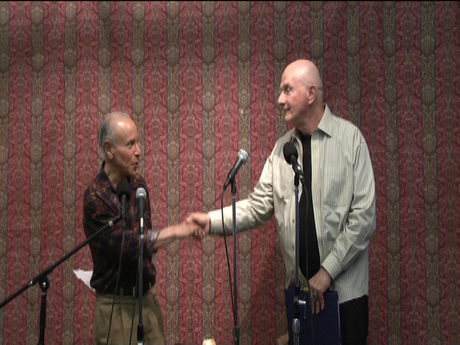 Stephen Kopel reads with Marvin Hiemstra. Please come as audience to the TV show so you can read too.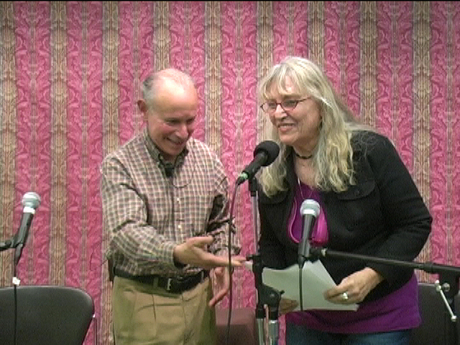 This is host Stephen Kopel's San Francisco poetry open mic after the videotaping of John Rhodes and Clara Hsu's Podcast/TV show at the Bay Area Video Coalition. The poets reading are Una, the daughter of Dana Teen Lomax, Laura Del Fuego, Stephen Kopel, and Al Averbach.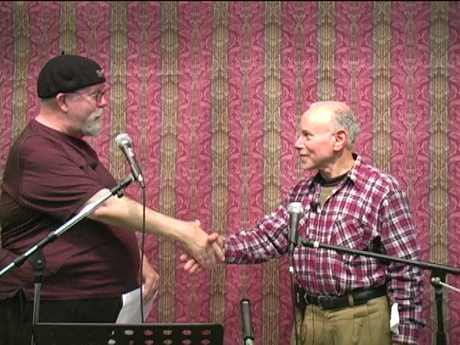 Here is a short audio portion from the open mic after the video taping with Clara Hsu and I, John Rhodes do once a month. Stephen Kopel runs the open mic. The person that reads with Stephen this time is Stephen Mackin. I am going to post the video version of this later at: http://www.youtube.com/user/johnfrhodes .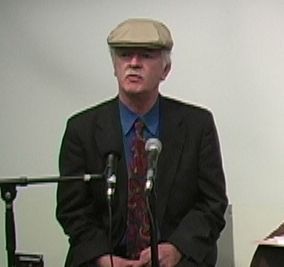 This is the San Francisco Poetry Hotel's Open Mic which runs after avery videotaping of John Rhodes and Clara Hsu's Poetry TV Show at 2727 Mariposa Street. Stephen Kopel is the host for this audio portion. In this open mic Steve Arnston, Don Hagelberg, Garrett Murphy, Don Brennan, and Stephen Kopel will read. I have included a picture of Steve Arnston. Hopefully over time I'll get everybody's picture up here. Enjoy!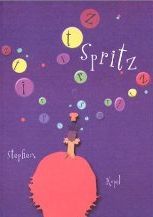 This was an impromptu open mic after the Febraury 23rd San francisco Open Mic Poetry podcast TV Show which I share now with Clara Hsu. Stephen Kopel and Cristopher Bernard read. You can find out more about Stephen Kopel at: http://www.redroom.com/member/StephenKopel ... and Christopher Bernard at: http://www.caveat-lector.org/ .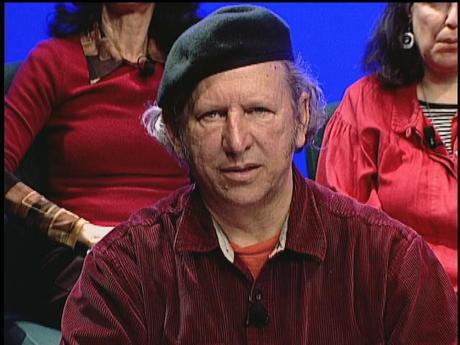 This recording is the regular open mic I (John Rhodes) and Clara hsu are going to be recording after the regular monthly taping of the San Francisco Open Mic Poetry Public Access TV Show. If you would like to attend and possibly read in the open mic please RSVP to Clara or John Rhodes. My email is
info at rhodespoetry dot com .
There is definitely limited seating so please be aware that only 30 people can be in the recording room at one time and if there is good attendance the mic will be determined by picking names out of a hat.
poets reading:
Jeanne Lupton
Cristopher Bernard
Martin Hickel
Stephen Kopel
Ava Bird
Joan Gelfand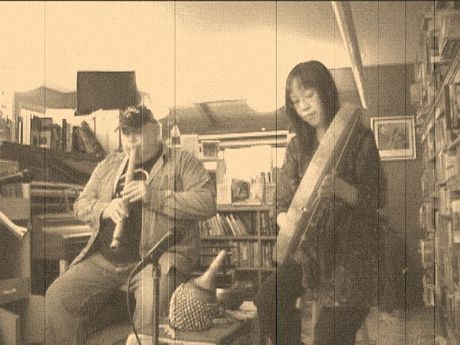 Earth Works and Sky Flower
From our struggle on earth, a flower grows. This is the bird song of humans.
The flute is the breath; the drum is the heart beat. The voice that is the conduit of the soul finds a resting place in poetry.
Lunation
Lunation is Bill Mercer and Clara Hsu. They have been reading poetry with musical instruments
such as the Japanese bamboo flute shakuhachi, singing bowl and hand drum since 2005.
They perform in bookstores, cafes, libraries, museums and churches in the San Francisco Bay Area.
Clara's web site: http://clarahsu.com
For more information about John Rhodes, the videographer, go to: http://rhodespoetry.com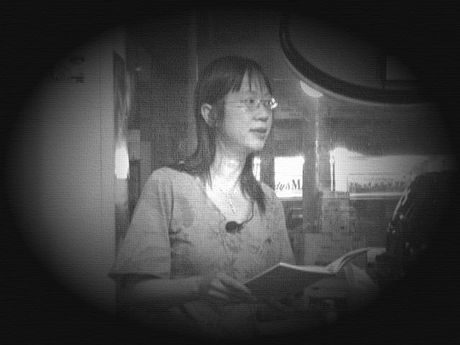 Here is a video of Clara Hsu at the Sacred Grounds Cafe, Feb. 09.
Here is a little about Clara from her web site
http://clarahsu.com :
When she was a little girl, Clara wanted to be a hermit and martial artist living in the mountains of China. Life's mysterious path took her to the United States. In this reality, she practices the art of multi-dimensional being: mother, musician, philanthropist, activist, purveyor of Clarion Music Center (a world music shop of exotic musical instruments), traveler, and ultimately, poet.
Clara was a nominee for the Pushcart Prize in poetry (2001).
Some of her poems can be found in the Homestead Review, the North Coast Review, the Haight Ashbury Literary Journal, and the internet journal Red River Review.
Her poem on censorship was published in 2003 by the North American Folk Music and Dance Alliance. Clara gives feature readings at various Bay Area venues and benefit events, but her home is the Sacred Grounds Café (Hayes and Cole), where poetry reading happens every Wednesday night.
In December 2005, Clara sold her music business of 23 years to focus on her art and her unusual performance ensemble Lunation, which combines Chinese and original poetry with Asian traditional instruments. She is also developing the concept of the Poetry Hotel, organizing free social activities for the poet community in the San Francisco Bay Area.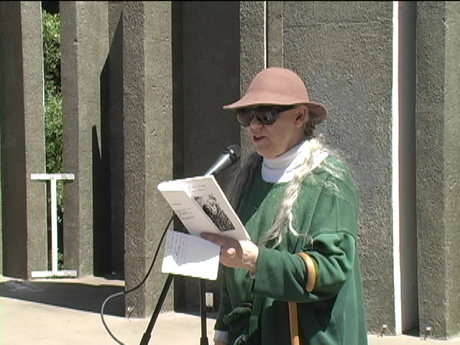 Jehanah Wedgwood runs the poetry open mic at Sacred Grounds Cafe':
http://sacredgroundscafe.com . She has been published in the sacred grounds anthology and is working on a book with H.D. Moe. This is only a brief bio. Go to Sacred Grounds on Wednesdays to find out more.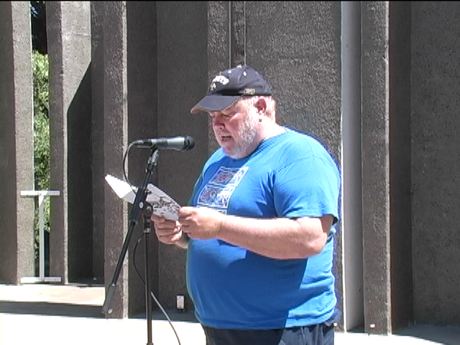 Poet Bill Mercer is a well-known figure of the San Francisco open mics. He often plays flute and reads poetry with Clara, the runner of "Poetry with Trees" as accompaniment to a poetic ode.